The gallery space is a 50 m2 L-shaped "white box" with small reception room in the entrance. The gallery is the first room when visitors enter in the house and can be walked through, exiting to the lobby of the house. The two main windows face north-west giving diffused natural light to the space. The gallery is equipped with lighting rails and spotlights and can be darkened completely. Media technology is available on request. The gallery has shown visual arts, sculptures and installations and can be used as a reception and workshop space. As a new venue, we are experimenting and developing the space to fit diverse needs thus we are open to suggestions and improvements.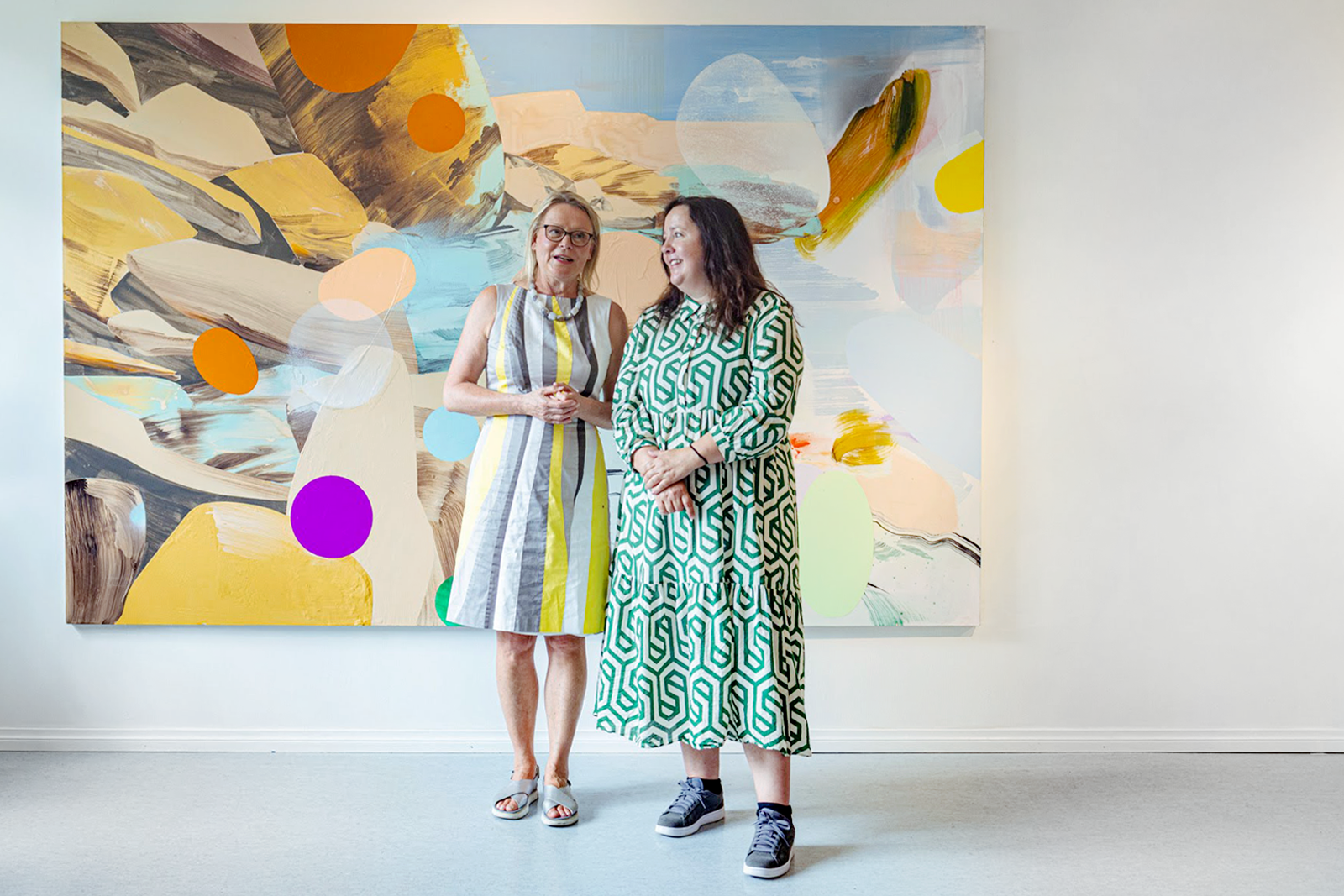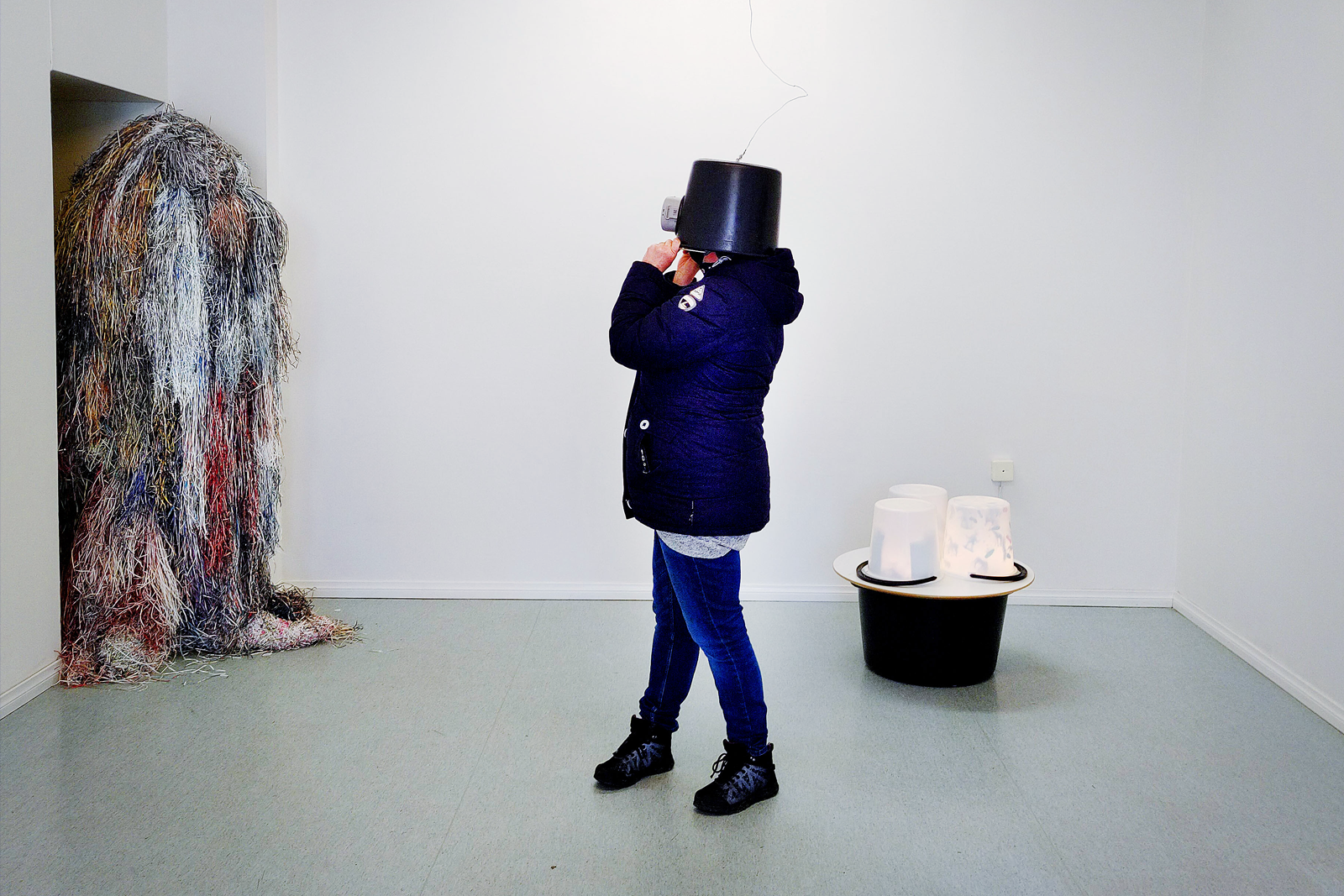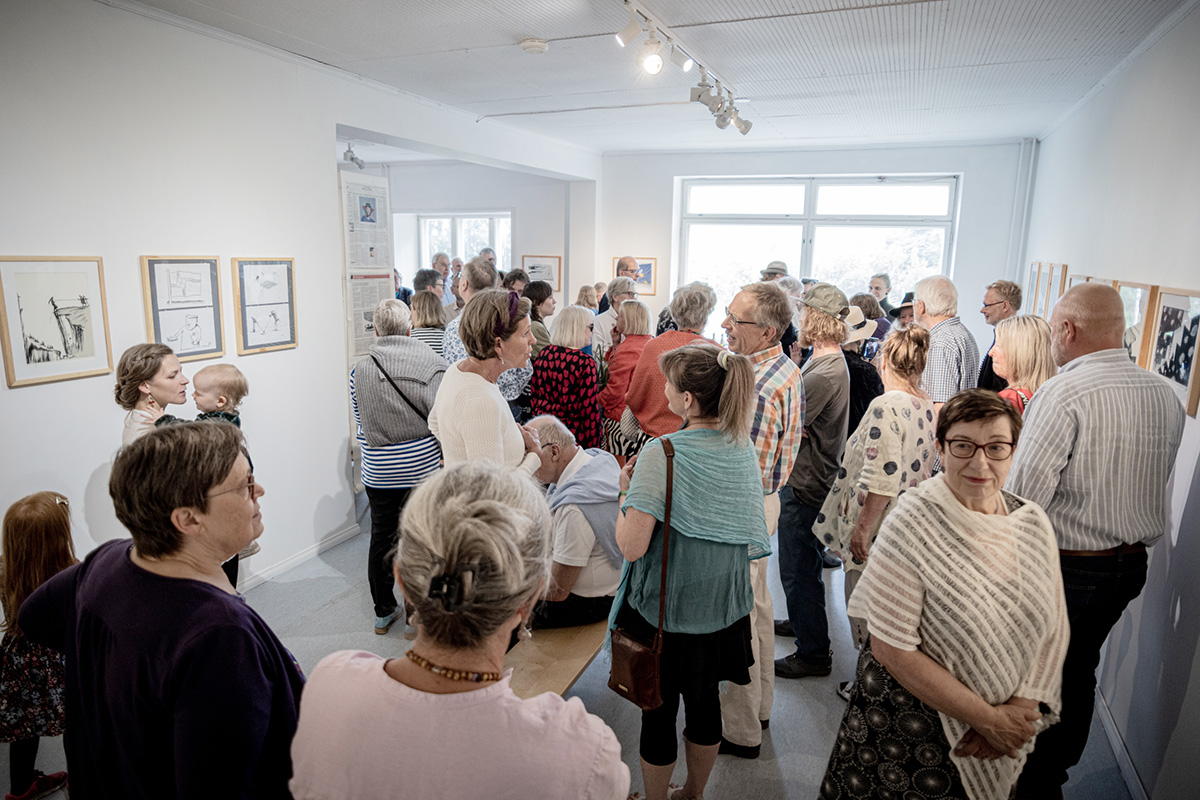 The salon is a 60m2 gallery space with a high ceiling (+3m), light grey walls, inner yard facing large windows. The small kitchen beside the entrance can be hidden with a curtain. Salon has ~13m length of  clean wall and plenty of floor space for sculptural work and installations. The space can be darkened for projections.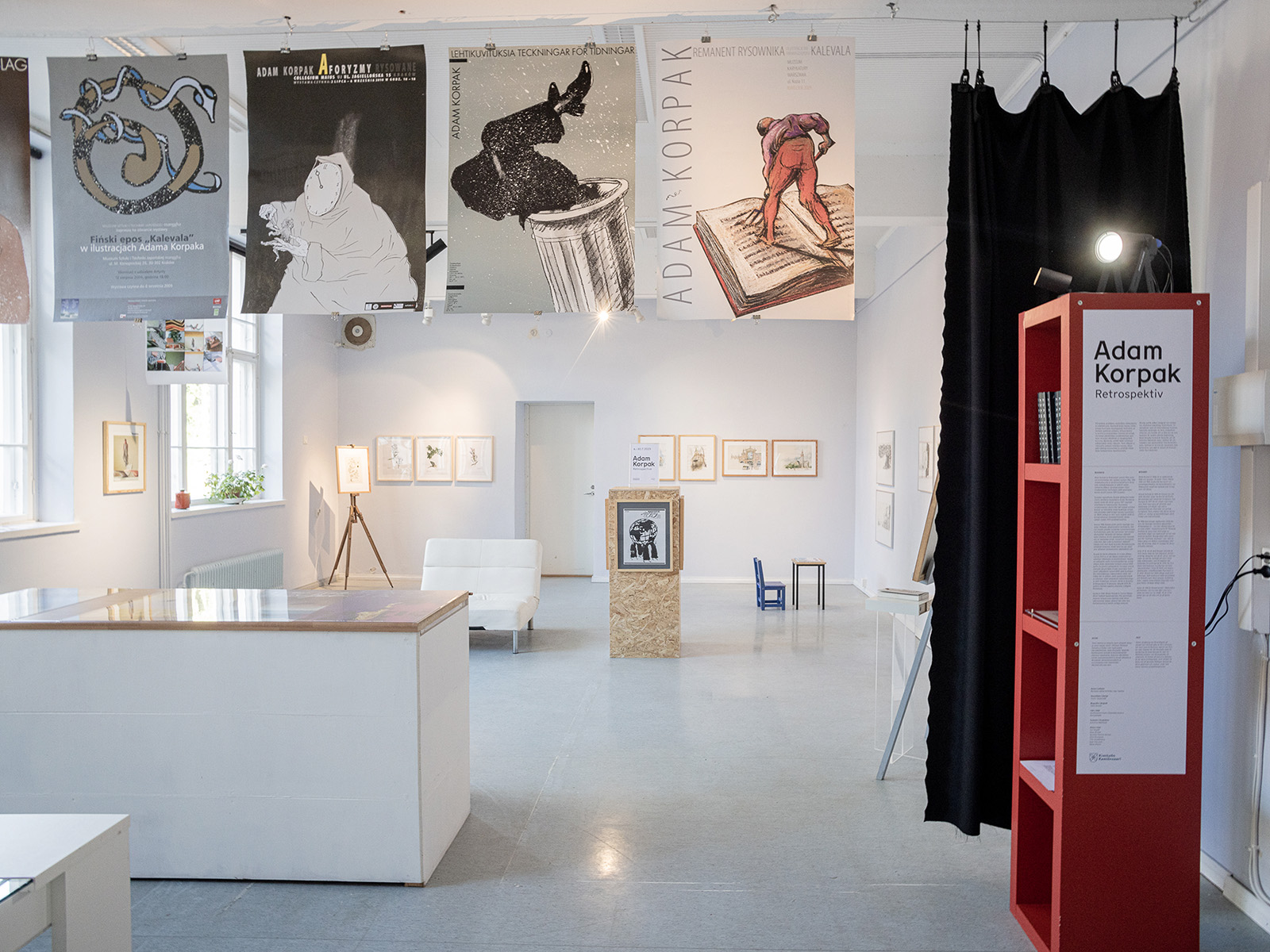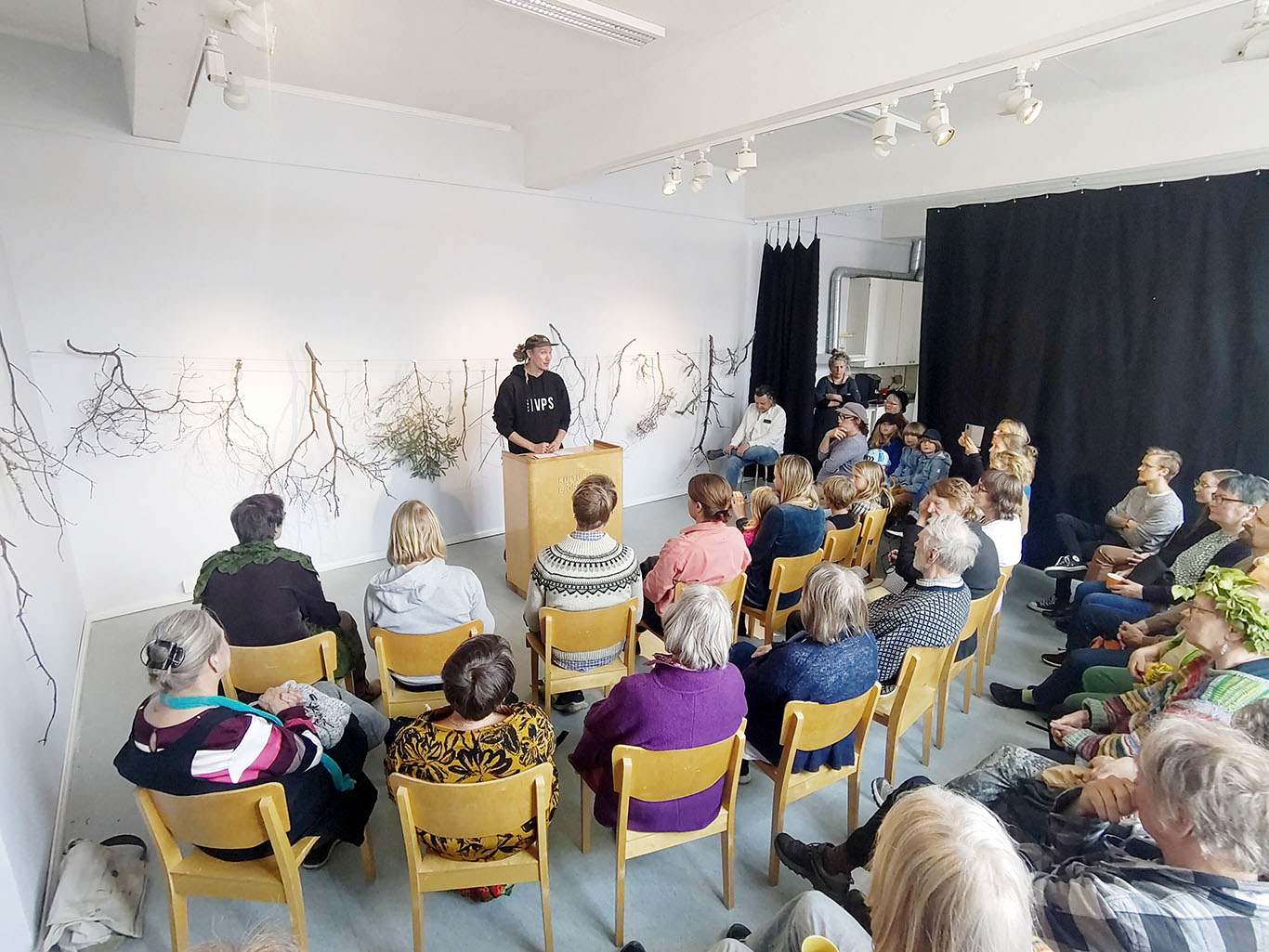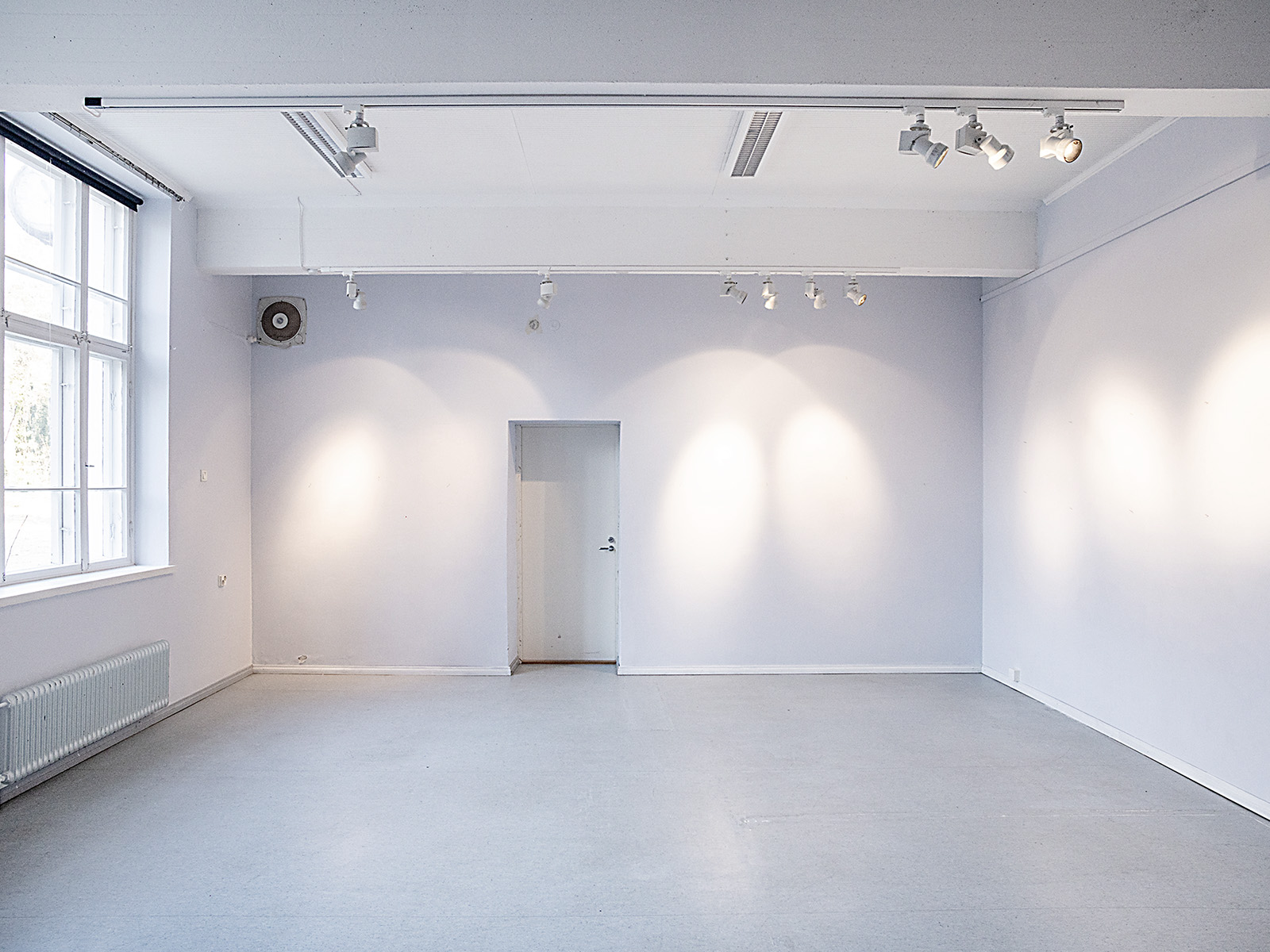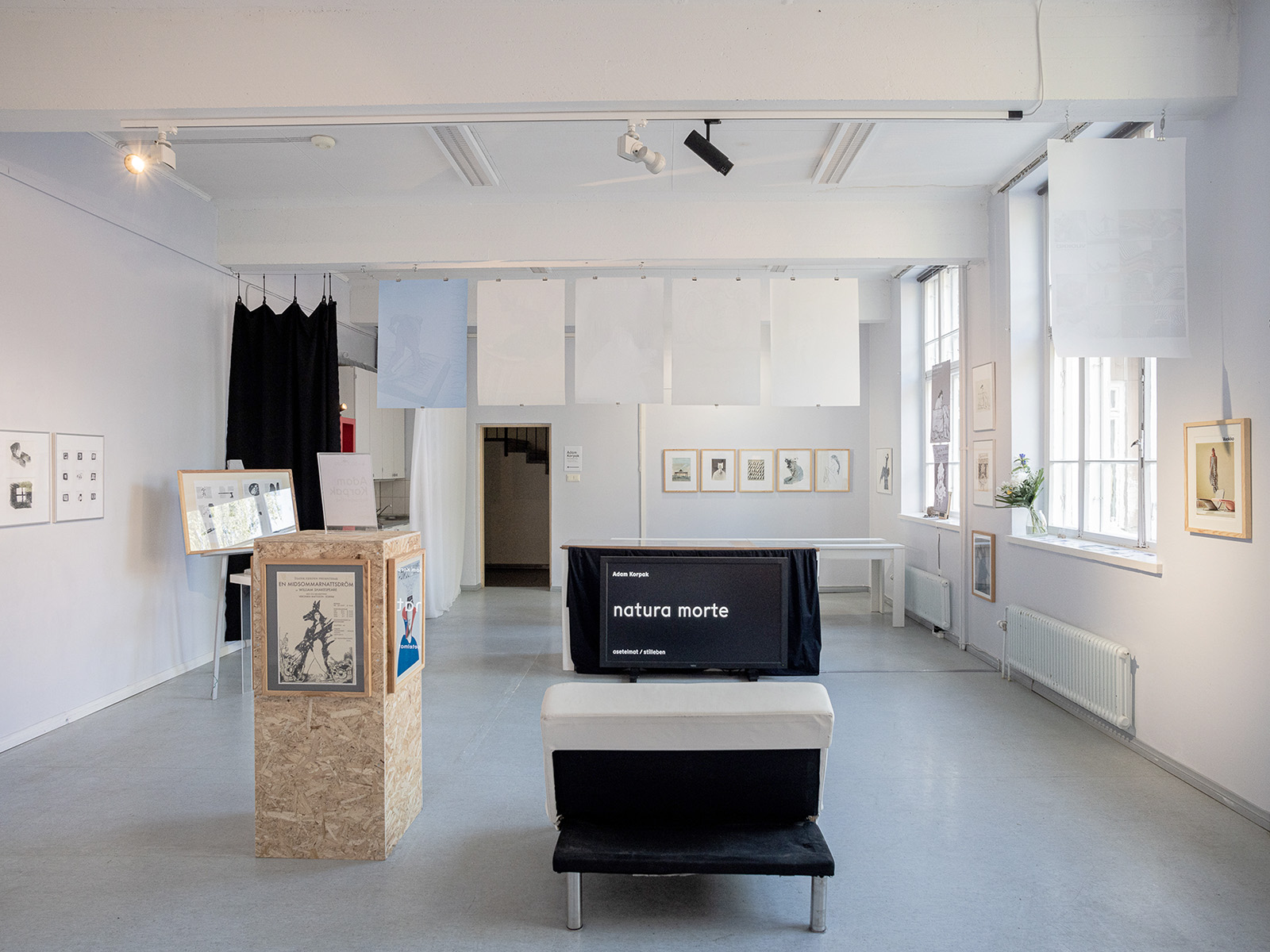 Aula-gallery is a two-floor ~50m2 lobby-space with ~15m of wall and a staircase that connects first and second floor.  First floor has an unique archway that leads to Salon. The staircase has a 4m hight vertical wall that can fit tall artworks. Second floor is an open space that continues to Puuha and completes a exhibition tour.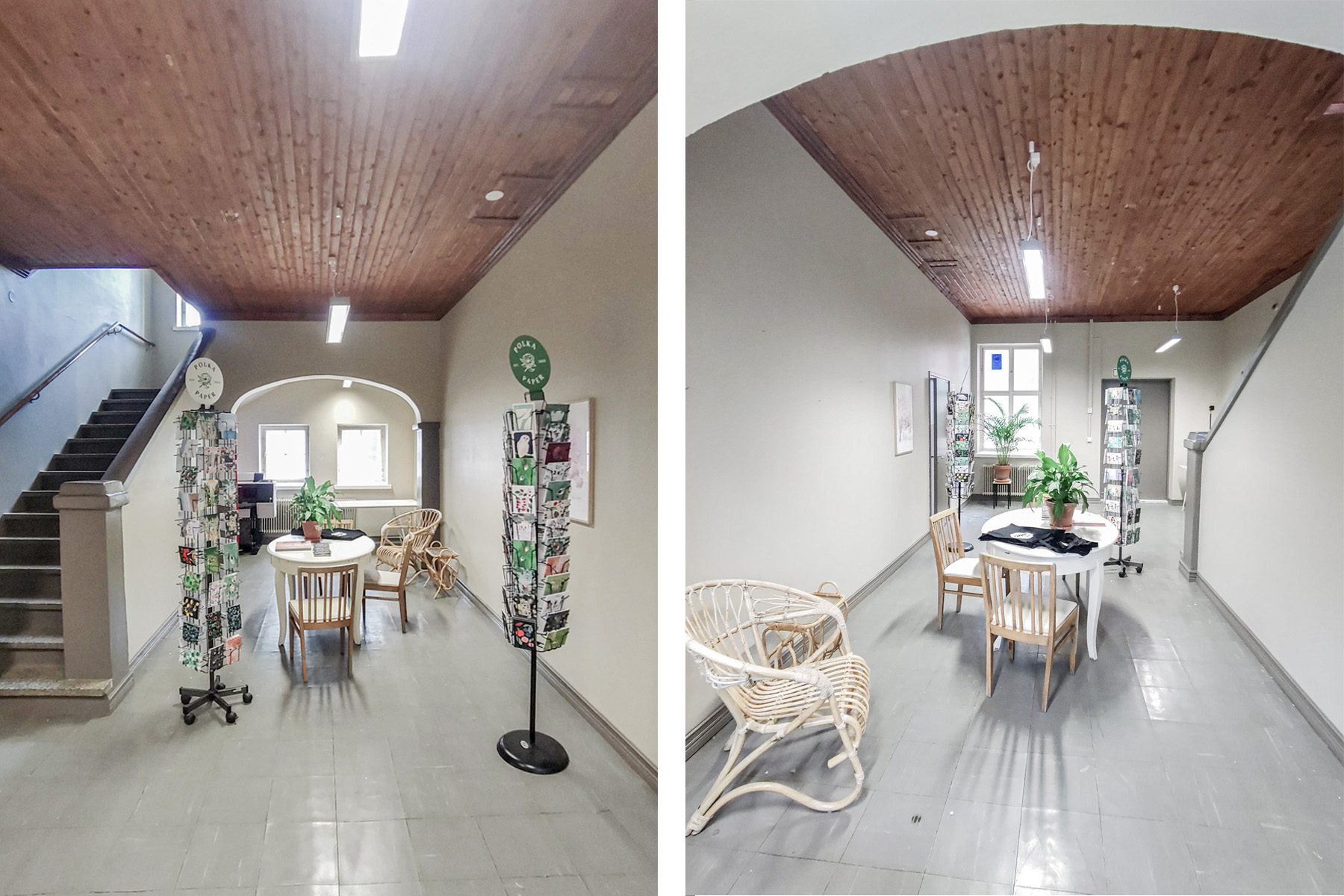 The Puuha is a ~60m2 multi-purpose workshop room in the second floor of the building. This space doubles as arts & crafts studio, especially for serigraphy and printing. 9m and 5m white walls can be used for exhibition together  with 2/3 of the floor space when cleared from tables.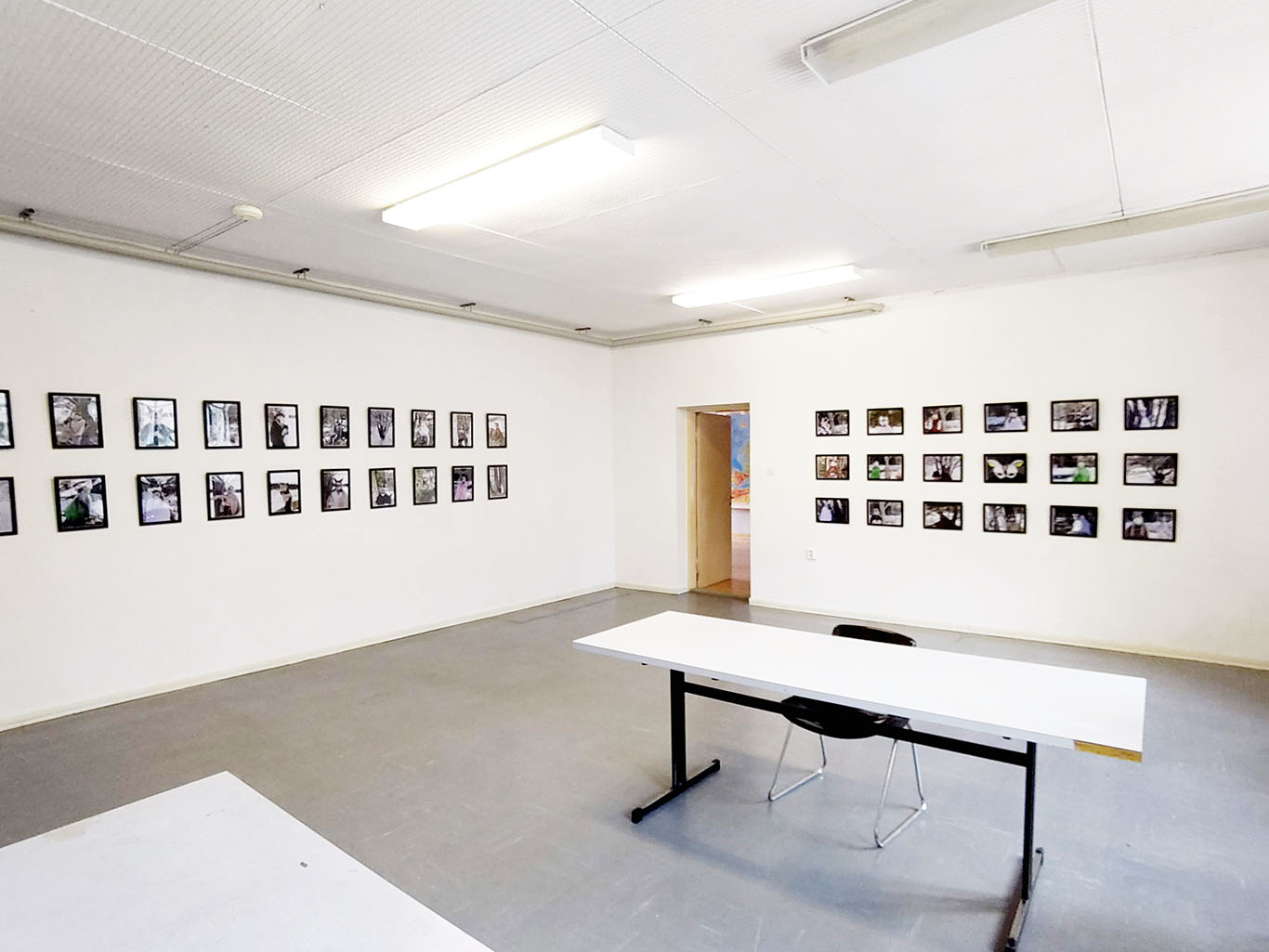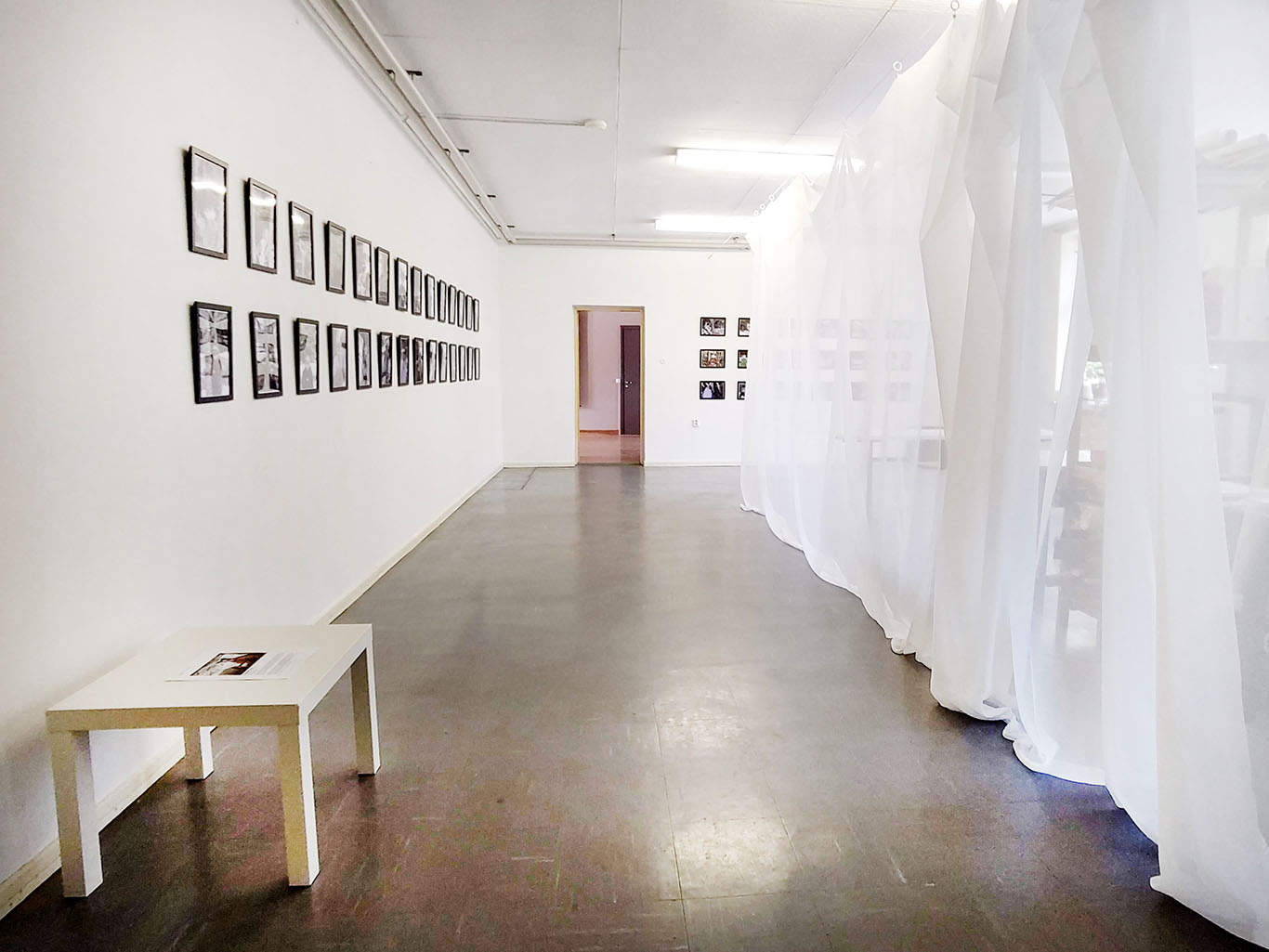 Our exhibition program welcomes diversity and experimentation. We are a new cultural platform and can work fast and take risks. We encourage both professional and amateur creative practitioners and groups to work with us. We are especially interested in ideas that include community participation and site-specific work.
In addition to the gallery and salon, there are many prominent display areas in the other public areas of the building, both inside and out. These areas can extend the gallery exhibition or present works by artists who may have fewer pieces to show. The gallery is a flexible space that can be arranged into a darkened, dual-purpose studio and exhibition space when required. We are looking for interesting responses to the whole site.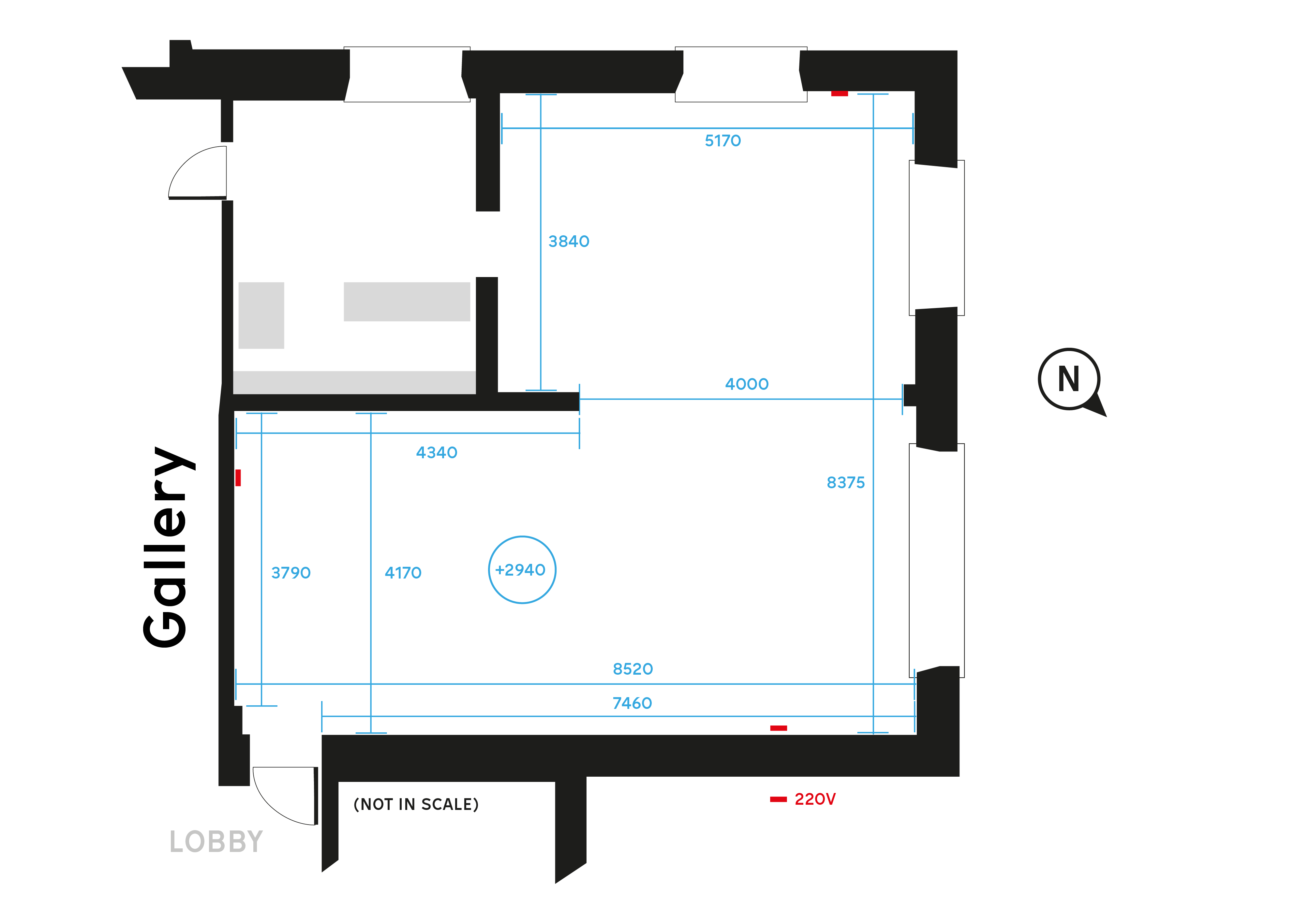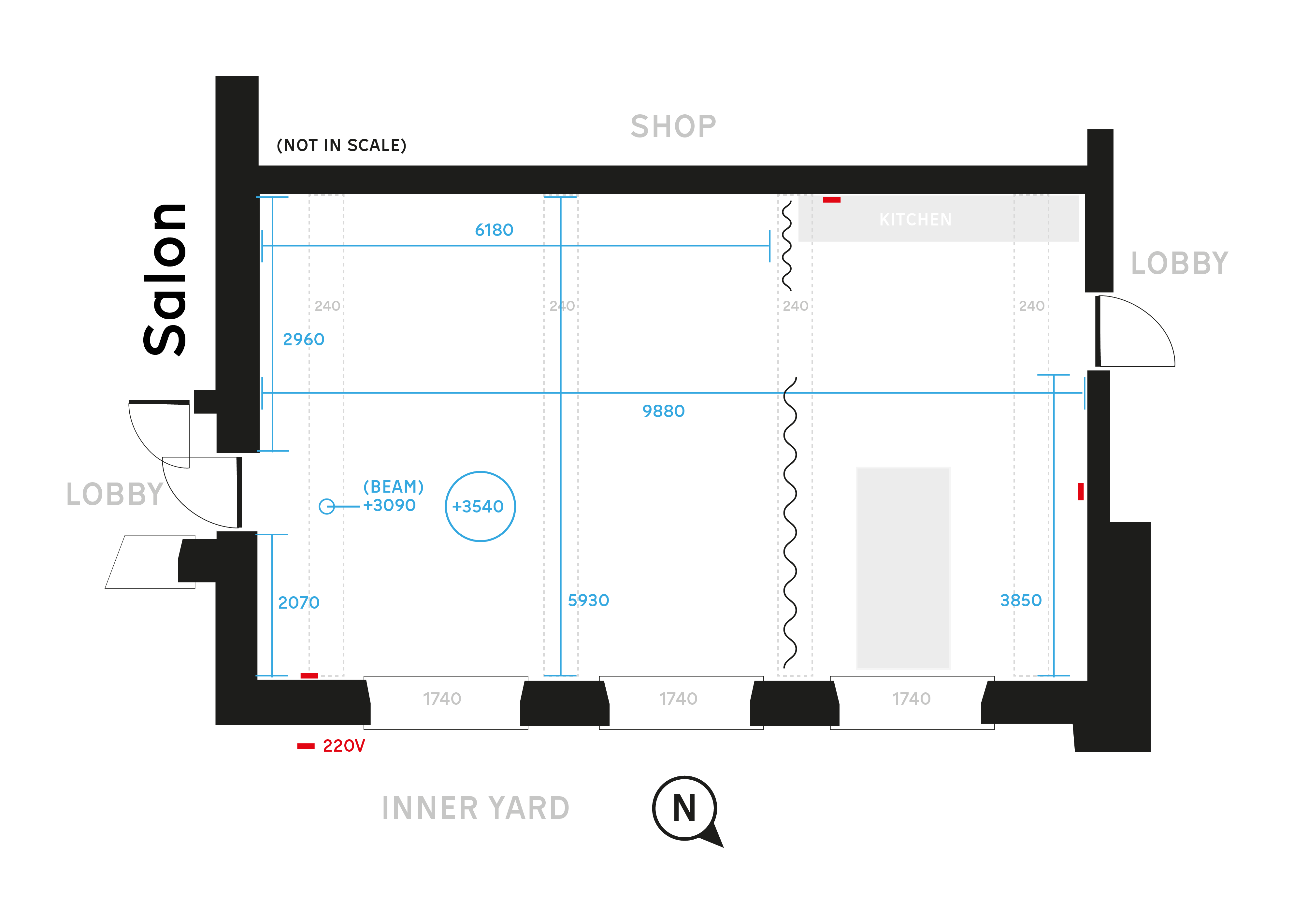 Seasons
Spring: Feb-May, ~25 days, during ~5-6 weeks
Summer: Jun-Aug, ~22 days, during ~4 weeks
Autumn: Sept-Dec, ~25 days, during ~5-6 weeks
Gallery (2024)
550€  Summer season
500€  Spring & Autumn season

Salon (2024)
500€ Summer season
450€ Spring & Autumn season
Aula (2024)
400€ Summer season
Puuha (2024)
200€ Summer season
Cellar (2024)
(Depends on setup)

Price includes:
– House infra (heating, electricity, water, cleaning, wifi)
– Exhibition attendance, opening hours vary
– Press-release in three languages (Fin, Swe, Eng)
– Shop point-of-sales (for merchandise sales)
– PR emailing to local press & regional stakeholders (list of 100)
– Instagram & Facebook pre-promotion + invitation + reminders
– In-house poster

24% VAT is included in all prices
Optional extras:
– Setup / Takedown assistant, 25€/h
– Insurance, based on coverage (or insurance paid or waived by the artist)
– Local poster distribution (100€:  20x (A4/A3) local shops, venues and bulletin boards)

Hall, Shop & Outdoors
– Rent negotiated based on duration & technical requirements
Artwork sales:
– Sales commission 2024: 30%
– Sold artworks remain in the exhibition until end of the show
– Artworks are invoiced without VAT when applicable (marginaaliverotus)
– The artist is paid 70% of the price within one month of sale of the artwork
(VAT 10% included if the artist is VAT registered)