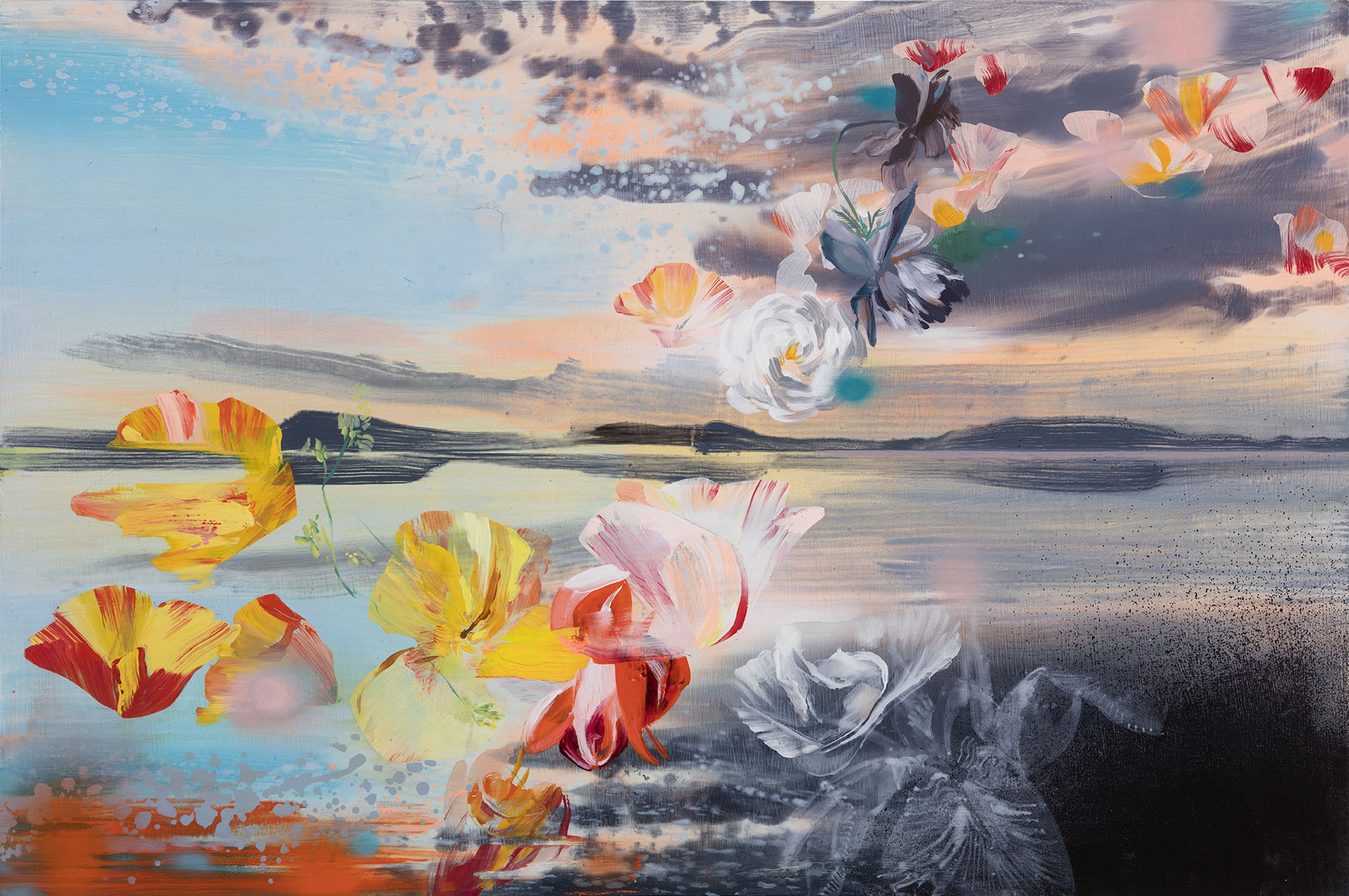 Contemporary landscape paintings
by Kristiina Uusitalo
1.7. – 31.7. 2022
The artist will be in attendance during the opening night from 18-20 on 01.07.22
Kristiina Uusitalo's paintings are composed of so much more than land, sea and sky. Her landscapes and seascapes show her deep connection and political response to the world we live in. Her paintings reveal the things that lie beneath the surface of our natural world. Focussing on a subject that is especially pertinent to the Finnish archipelago, Kristiina shares her deep concern about the pollution of our oceans. In her work we see synthetic objects polluting the scene and disrupting the natural order of things. Kristiina uses extraordinary colours and strong gestural brushstrokes to show how modern life is violently changing our world and weakening our connection to it. The drama of Kristiina's landscapes originates from the conflicts played out in her own psyche. These dynamic abstractions are produced when romantic ideals, instinctive response and hard reality collide.
"My landscape is a stage. So it is rather my intention to tell about what is happening in our minds than portray a landscape. I strive to make visible a moment of revelation when the old and new are present at the same time. I discuss the desire for change and the change that already happened but we did not realize.There is the joy of finding a new possibility when the old and new are present at the same time.Even my idea of our environment is already old. " says artist Kristiina Uusitalo
Idealised, American landscape painting and the spontaneity found in Chinese ink painting inform Kristiina's work. She also takes the skillful control needed for painting with watercolor and applies it to oil painting. The evidence of this technique is in the quickly-applied fluidity of the sea and the thick impasto geometric shapes.
"We are delighted to have Kristiina Uusitalo with us in Kulturhus Björkboda for our first exhibition of the Summer. We are especially pleased that her work can be seen for the first time in Kemiönsaari, an island known for its outstanding natural beauty. " says curator Lisa Roberts.
All members of the press and media are welcome to meet the artist from 14.00 -16.00, 01.07.22. Please let us know if you can attend.
ABOUT THE ARTIST
http://kristiinauusitalo.fi
Kristiina Uusitalo's (b. 1959) is one of the leading Finnish painters and has portrayed nature as a stage in one's inner life since the turn of the 1980s. Uusitalo has renewed its art over the years but has retained its recognizable expressive style. Uusitalo received the State Prize for Fine Arts in 2008. Her public works include the altarpiece of the Tainionkoski Church in Imatra (1997) and the mural "Borne by Light" (2013) in the lobby of Malmi Hospital. Uusitalo's works are in all major Finnish public collections.
For more information contact
Curator
Lisa Roberts
lisa@kubu.fi
+358 417502687

ABOUT THE GALLERY PROGRAM
Kulturhus Björkboda shows contemporary art in all media and supports professional artists throughout their careers. In 2022 our diverse program will test the exhibition potential of this grand old building. Our 55m2 ground-floor gallery and reception room can be converted into a hybrid studio/exhibition space. The rest of the house and outside spaces can also be used for site-specific installations, events, and workshops. We encourage artists with new, ready-to-hang shows as well as those who want to create site-specific work.