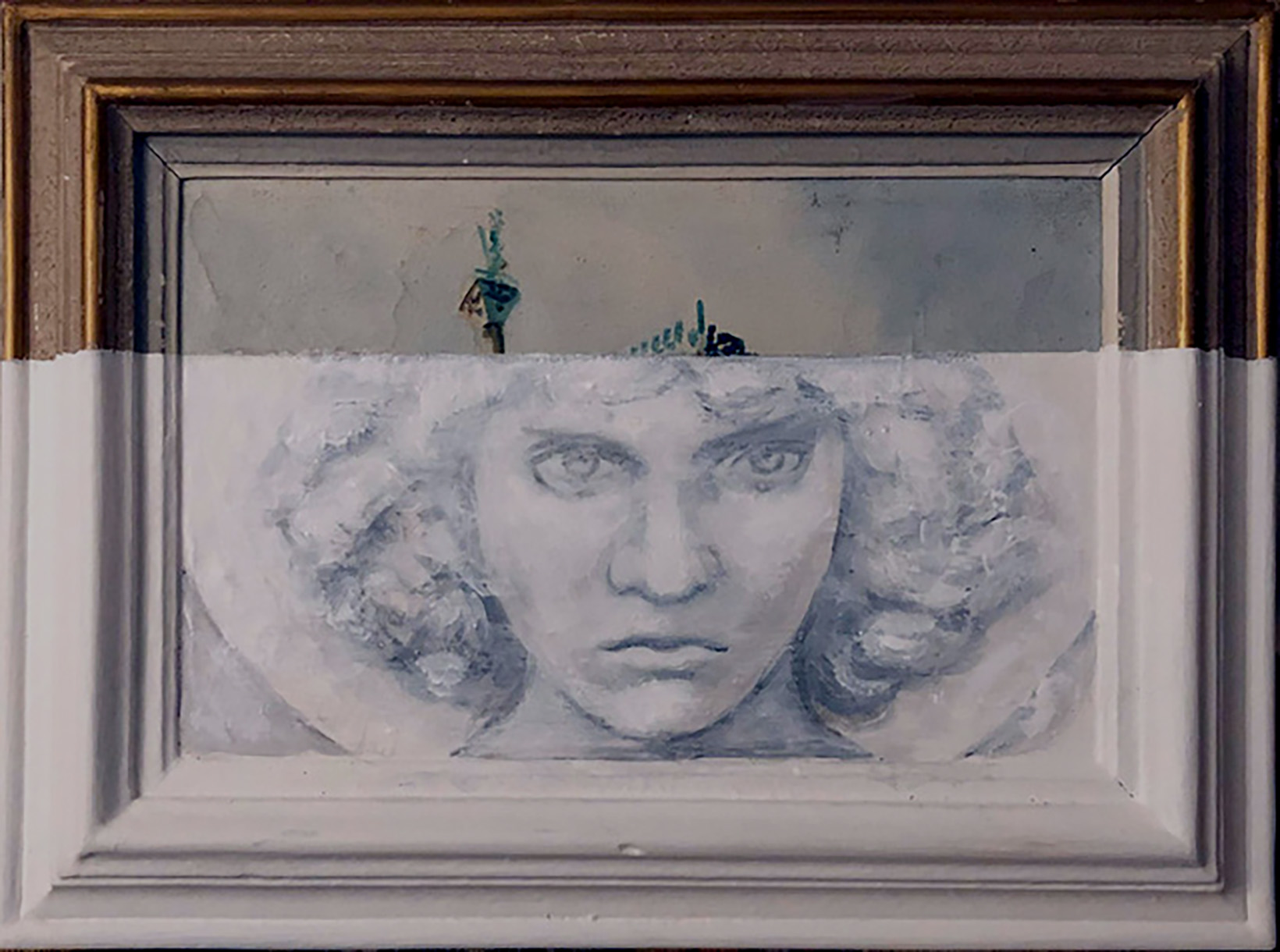 In the Middle of Everything
Jouko Ollikainen
3.-28.8. 2022
Through his exhibition, Jouko Ollikainen explores the sudden nature of death, living in the moment and how these themes present themselves in visual art. The idea for the exhibit was born when the artist himself understood that everything can end suddenly, in the middle of everything. The artworks showcase that exact moment when a person is in the middle of all the unfinished work visible from the outside and then their soul is moved somewhere else. The artworks are like icons of everyday life, that gently remind us of the importance of living in the moment and of the finiteness of life. When we die, we are always ready, even though from the outside it would look like it happened in the middle of everything.
The abandoned paintings that have served as an inspiration to the artworks have been gathered by Ollikainen from second hand stores' "take for free" sections. As an artist Ollikainen has always felt sympathy towards abandoned paintings, whose time has come to an end and who no-one wants to see anymore.
Jouko Ollikainen has created and studied art for over 30 years. Inspired by everyday life, he finds new ways to view art while questioning things, phenomena and attitudes. 
About the artist:
http://joukoollikainen.com/
For more information contact
Curator
Lisa Roberts
lisa@kubu.fi
+358 41 750 2687

Jouko Ollikainen
4.-28.8. 2022
Jouko Ollikainen forskar med sin utställning i hur överraskande döden är, livet i stunden och hur detta får uttryck i bildkonsten. Idén till utställningen blev till av konstnärens egna uppvaknande och förståelse för att allt plötsligt kan ta slut, mitt i allt. Verken speglar den stund, när vi är mitt i det utifrån till synes ofullbordade och själen vandrar någon annanstans. Verken är som vardagens ikoner, som milt påminner oss om det viktiga i att leva i stunden och om livets ändlighet. När vi dör är vi ändå alltid fullbordade även om det sett utifrån kan te sig att det händer mitt i allt.
Som bas för verken är de övergivna målningarna som Ollikainen har samlat från återvinningscentralernas "ta för dig"-avdelning. Som konstnär har Ollikainen alltid känt sympati för övergivna tavlor, tavlor som levt sitt liv och som ingen längre vill se.
Jouko Ollikainen har skapat och studerat konst i över 30 år. Ollikainen observerar från vardagen infallsvinkel till sin konst och ifrågasätter ting, fenomen och attityder.
Jouko Ollikainen
4.-28.8. 2022
Jouko Ollikainen tutkii näyttelyn kautta kuoleman yllätyksellisyyttä, hetkessä elämistä ja miten tämä näyttäytyy kuvataiteessa. Näyttely idea syntyi taiteilijan omasta havahtumisesta ja ymmärryksestä siitä, että kaikki voi loppua yhtäkkiä, kesken kaiken. Teokset kuvastavat juuri sitä hetkeä, kun olemme keskellä sitä kaikkea ulkopuolelta näyttäytyvää keskeneräisyyttä ja sielumme siirtyy johonkin muualla. Teokset ovat ikään kuin arjen ikoneita, jotka muistuttavat lempeästi hetkessä elämisen tärkeydestä ja elämän rajallisuudesta. Kuollessamme olemme kuitenkin aina valmiita vaikka ulkopuolelta käsin se näyttääkin tapahtuvan kesken kaiken.
Näyttelyn teosten pohjana olevat hylätyt maalaukset Ollikainen on haalinut kierrätyskeskusten "Saa ottaa" -osastoilta. Taiteen tekijänä Ollikainen on tuntenut aina sympatiaa hyljättyjä tauluja kohtaan, tauluja joiden aika on tullut täyteen ja joita kukaan ei halua enää nähdä.
Jouko Ollikainen on tehnyt ja tutkinut taidetta yli 30 vuotta. Ollikainen havainnoi arjesta taiteeseensa tulokulmia kyseenalaistaen asioita, ilmiöitä ja asenteita.
KUBU ♥ NORPAS
This is exhibition is a part of the collaboration with Norpas -festival. Norpas is an international independent art festival organized in a small village of Taalintehdas on Kemiönsaari island in Finland annually in August. The festival offers artistically high-quality non-commercial cultural programmes and organizes art workshops. Many of us in Kulturhus Björkboda are long-time Norpas volunteers also. Visit Norpas here.