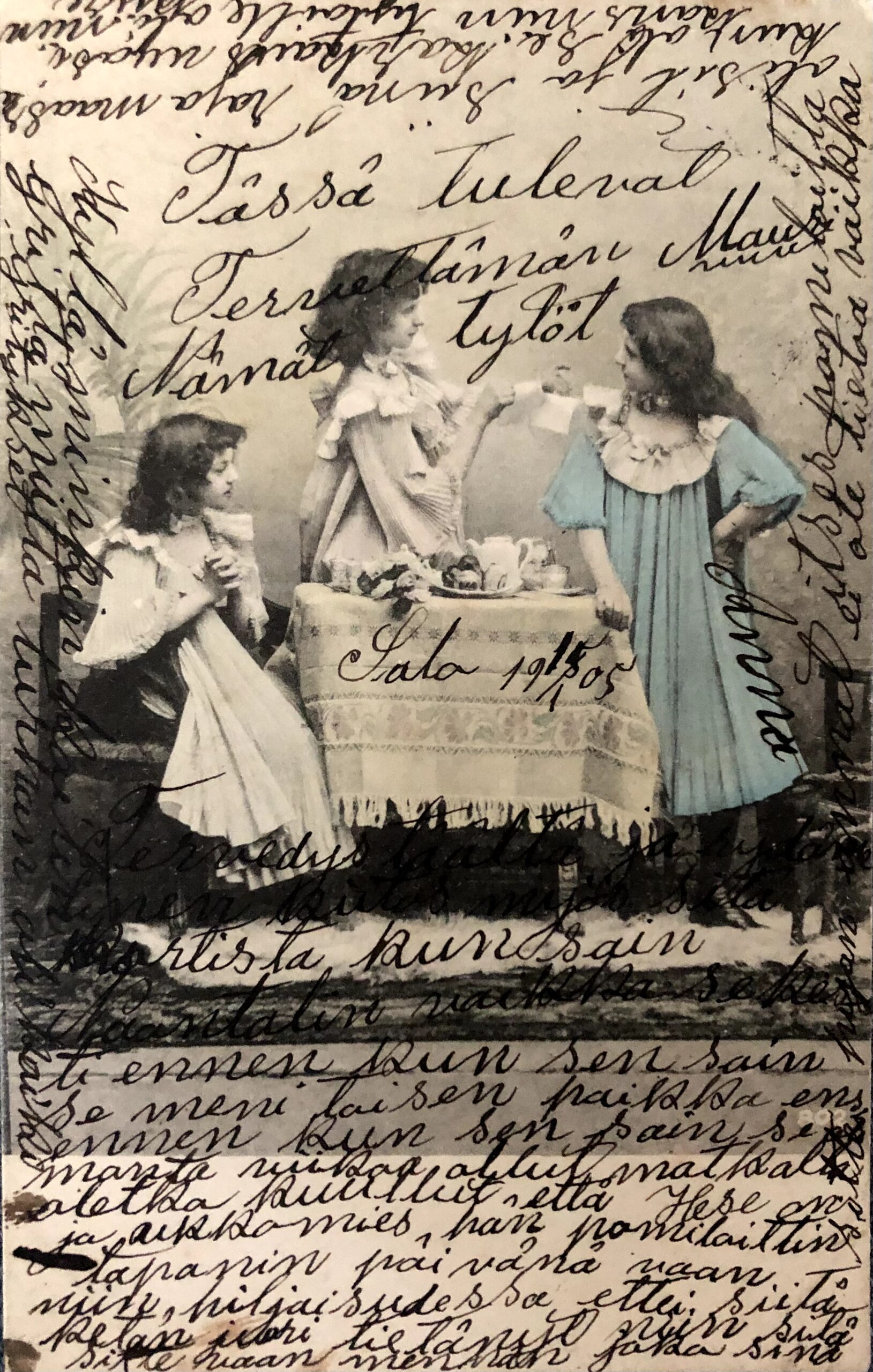 A celebration of paper
2. – 25.9. 2022
On the 110th birthday of Björkboda school we fill the house with paper art. 20 artists bring collage, sculpture, paintings, illustrations and more from across Finland, Europe and US to show together for the first time in Kulturhus Björkboda.
Today paper is a cheap, ubiquitous resource that for centuries has helped us capture moments and share ideas. There is an immediacy and versatility to paper which enables us to make lists and doodle, share revolutionary stories and design the world around us. Our enduring bond surely begins in early childhood where we learn first to rip, chew, scrunch and throw it. Despite the allure of digital technologies many artists continue to depend on paper, often buying or making for themselves handmade papers that have exactly the right qualities to suit their work.
"This is my first time exhibiting in Finland, and I'm excited to see my first large scale Traumatography installation in the gallery at Kulturhus Kubu, in the first year of such an ambitious curatorial programme." says Wendy-Ann (UK)
Art and investment
The Paperwork exhibition sells affordable art to suit every pocket. We want to offer art as an investment. We encourage visitors to buy something meaningful to enjoy forever. Show your support for Kulturhus Björkboda and the artists everywhere.
The opening event with drinks and dj sets from Polka Paper and more on 02.09.22 18-20.00. Contact Lisa Roberts to coordinate interviews with artists anytime.
På Björkboda skolas 110-årsdag fyller vi huset med papperskonst. 20 konstnärer tar med sig collage, skulpturer, målningar, illustrationer med mera från hela Finland, Europa och USA för att visa tillsammans för första gången i Kulturhus Björkboda.
Idag är papper en billig, allestädes närvarande resurs som i århundraden har hjälpt oss att fånga ögonblick och dela idéer. Det finns en omedelbarhet och mångsidighet hos papper som gör det möjligt för oss att göra listor och klottra, dela revolutionära berättelser och utforma världen omkring oss. Vårt varaktiga band börjar säkert redan i tidig barndom när vi lär oss att slita, tugga, skrapa och kasta papper. Trots den digitala teknikens lockelse fortsätter många konstnärer att vara beroende av papper, och köper eller tillverkar ofta själva handgjorda papper som har exakt de rätta egenskaperna för deras arbete.
Konst och investeringar
Utställningen Paperwork säljer prisvärd konst som passar alla plånböcker. Vi vill erbjuda konst som en investering. Vi uppmuntrar besökarna att köpa något meningsfullt som de kan njuta av för alltid. Visa ditt stöd för Kulturhus Björkboda och konstnärer överallt.
Björkbodan koulun 110-vuotispäivänä täytämme talon paperitaiteella. 20 taiteilijaa tuo kollaaseja, veistoksia, maalauksia, kuvituksia ja paljon muuta eri puolilta Suomea, Eurooppaa ja Yhdysvaltoja ensimmäistä kertaa yhdessä esille Kulturhus Björkbodaan.
Nykyään paperi on halpa, kaikkialla läsnä oleva resurssi, joka on vuosisatojen ajan auttanut meitä vangitsemaan hetkiä ja jakamaan ajatuksia. Paperi on välitön ja monipuolinen väline, jonka avulla voimme tehdä listoja ja tehdä töherryksiä, jakaa vallankumouksellisia tarinoita ja suunnitella ympäröivää maailmaa. Kestävä suhteemme alkaa varmasti jo varhaislapsuudessa, jolloin opimme ensin repimään, pureskelemaan, rypistelemään ja heittelemään paperia. Digitaalitekniikan houkuttelevuudesta huolimatta monet taiteilijat ovat edelleen riippuvaisia paperista, ja usein he ostavat tai valmistavat itse käsintehtyjä papereita, joilla on juuri oikeat ominaisuudet heidän työhönsä.
Taide ja investointi
Paperwork-näyttelyssä myydään kohtuuhintaista taidetta jokaiseen kukkaroon. Haluamme tarjota taidetta sijoituksena. Kannustamme kävijöitä ostamaan jotain merkityksellistä, josta voi nauttia ikuisesti. Osoita tukesi Kulturhus Björkbodalle ja taiteilijoille kaikkialla.
For more information contact
Curator
Lisa Roberts
lisa@kubu.fi
+358 41 750 2687

ABOUT THE GALLERY PROGRAM
Kulturhus Björkboda shows contemporary art in all media and supports professional artists throughout their careers. In 2022 our diverse program will test the exhibition potential of this grand old building. Our 55m2 ground-floor gallery and reception room can be converted into a hybrid studio/exhibition space. The rest of the house and outside spaces can also be used for site-specific installations, events, and workshops. We encourage artists with new, ready-to-hang shows as well as those who want to create site-specific work.