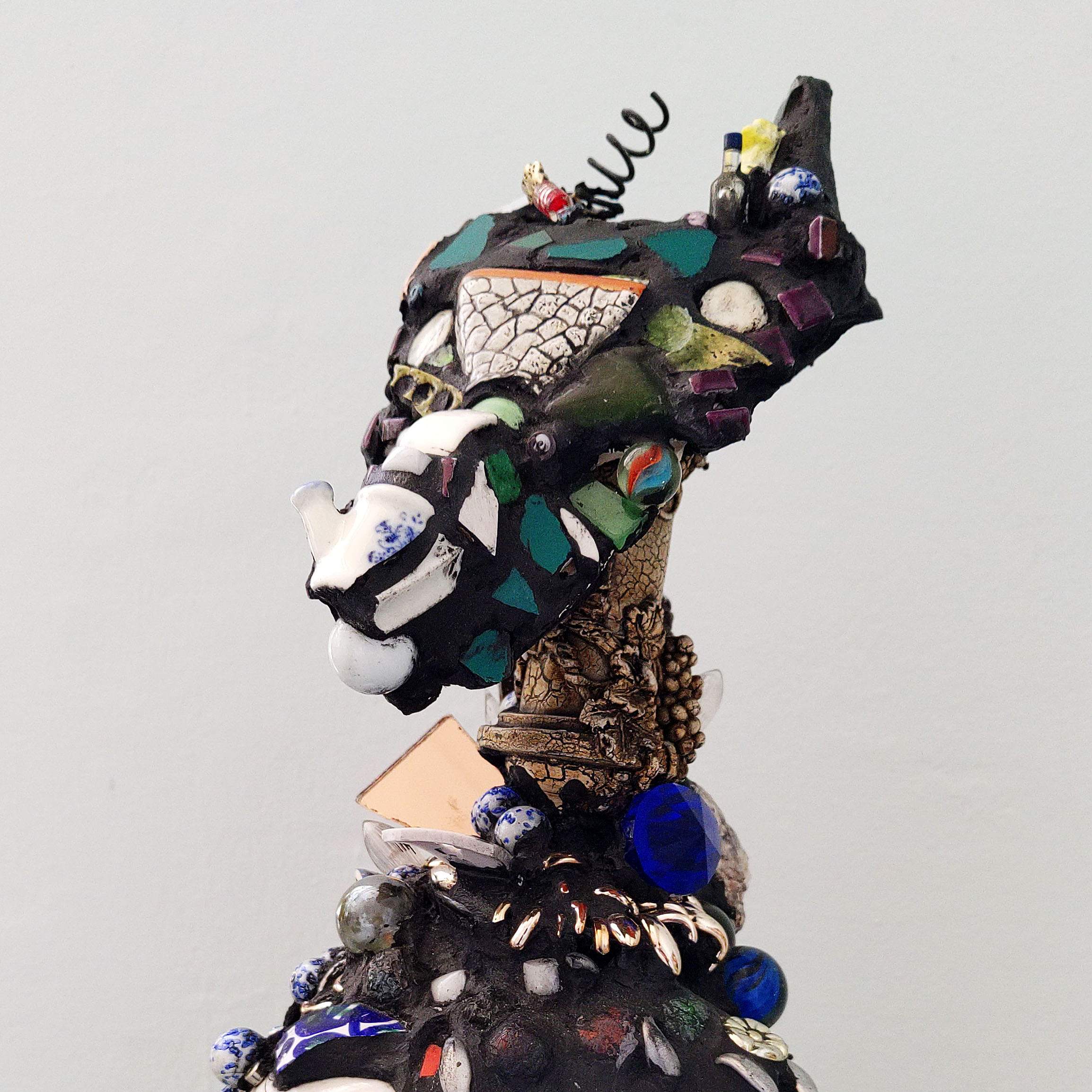 Skill – Will – Equality – Art
(top photo, detail)
Insectum – Magnum
Mosaic-series,2017
Art Notes community art group
Art Notes community art group reflects on the next stage in the evolution of humanity with their art work "Insectum – Magnum".
ArtNotes artists:
Bachia Eija, Hahta Daniel, Hirsimäki Miikka, Lehtinen Liisa, Lähde Liisa, Mäki-Lertola Sinikka, Nurminen Tiina Elina, Ruoho Eija, Soini Jouni, Talling Christine, Venho Seija, Väyrynen Seija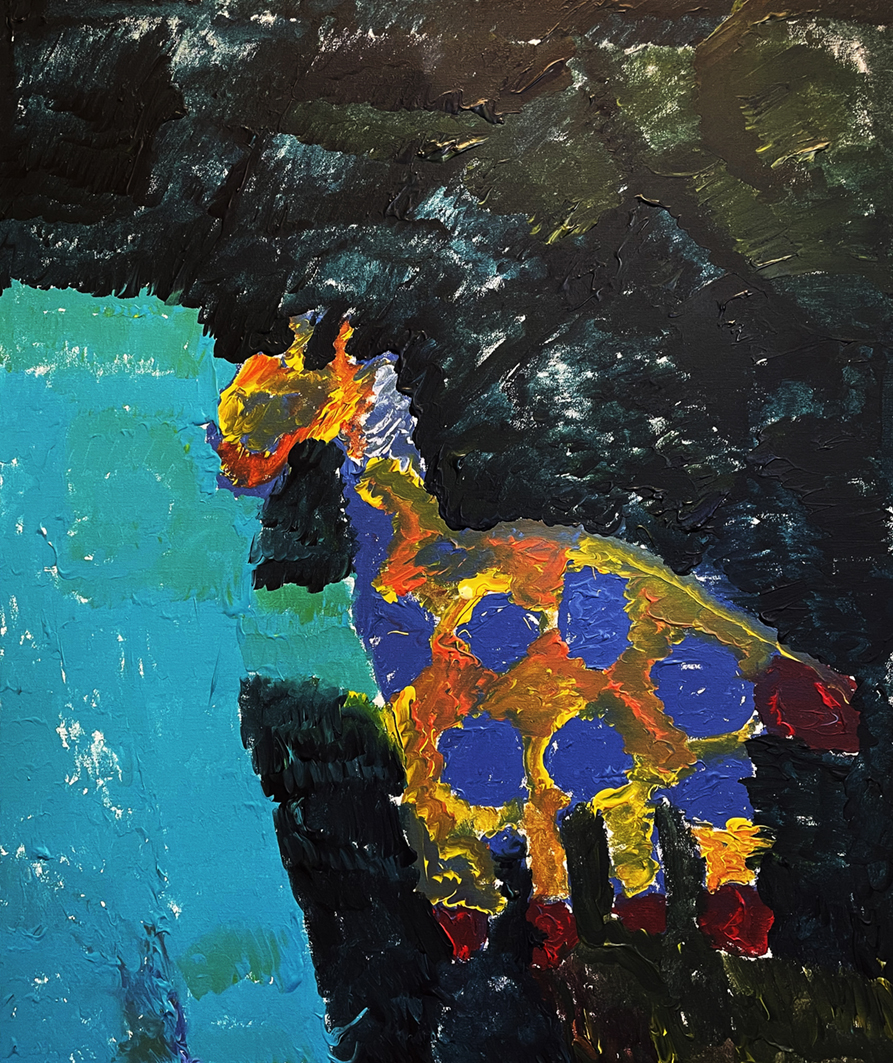 William Band
Giraffe
Acrylic on canvas
103 x 81 cm
Colours have always been important for me. The Creator has given me a gift to use colours. Last winter Eija Ruoho taught me how to use acrylic colours. I loved it straight away. I can express myself by painting and I am always very happy when I paint. Painting gives my life a purpose and I feel that I can be a part of this life. My life matters. Painting is my life.
William Band, born 1992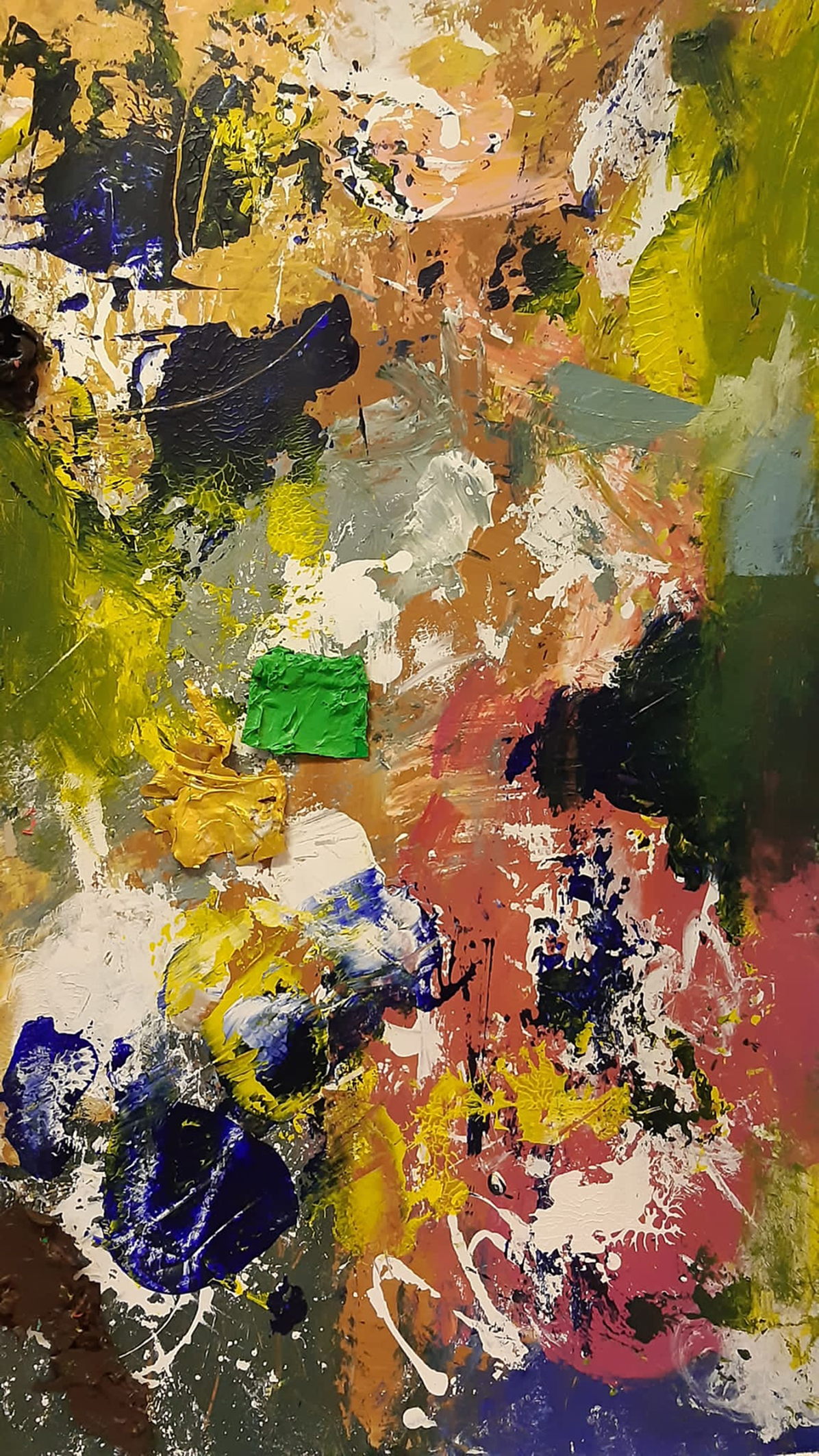 Benny Talling
Surpirses
Acrylic on cardboard
63,5 x 103 cm
Rakastan suurien ja värikkäittenmaalausten tekemistä,valitsen värit huolella, ja käytän erilaisia tekniikoita. Olen osallistunut useisiin näyttelyihin, joita Into Ry on järjestänyt.
Benny Talling, born 1986
Practiced art since 2009
Art for those with special needs – what is it all about?
Artists with special needs do need support so that making art is possible for them. Accessibility and equal opportunity are the key issues – creative activity and the ability to become an artist should be available to all. Those with a special talent and interest or enthusiasm who indicate a desire to do art should have such a wish taken into account, for example in the planning of their daycare.
It is important that the art teaching is by experts who are either professional artists or art teachers and that in the teaching quality art materials and equipment are used. The special support that might be needed by those who are engaged in art could be (as in other activities) a personal assistant or translator.
The individual needs of those artists also need to be taken into account. In practice, this might mean for example working in their own peaceful workroom. In some cases, it may be possible to work in the same space as others or another artist. According to the requirements, new technical solutions can be developed and the work equipment for example can be adapted for those lacking fine motor skills. The essential thing is that everyone can do art in peace, experimenting and progressing at their own pace.
Doing art can assist the feeling of well-being, the feeling of belonging to a group and taking part in community activity. Essential also is that everyone can develop their own imagery and expression. Those with special needs can have difficulties in expressing themselves verbally and doing art can give them the means to develop their self-expression.
Art created by special needs artists can be called by the label "Outsider Art". taidekeskusinto@gmail.com
https://www.taidekeskusinto.com/
Lisätietoja:
Sinikka Mäki-Lertola
Eija Ruoho