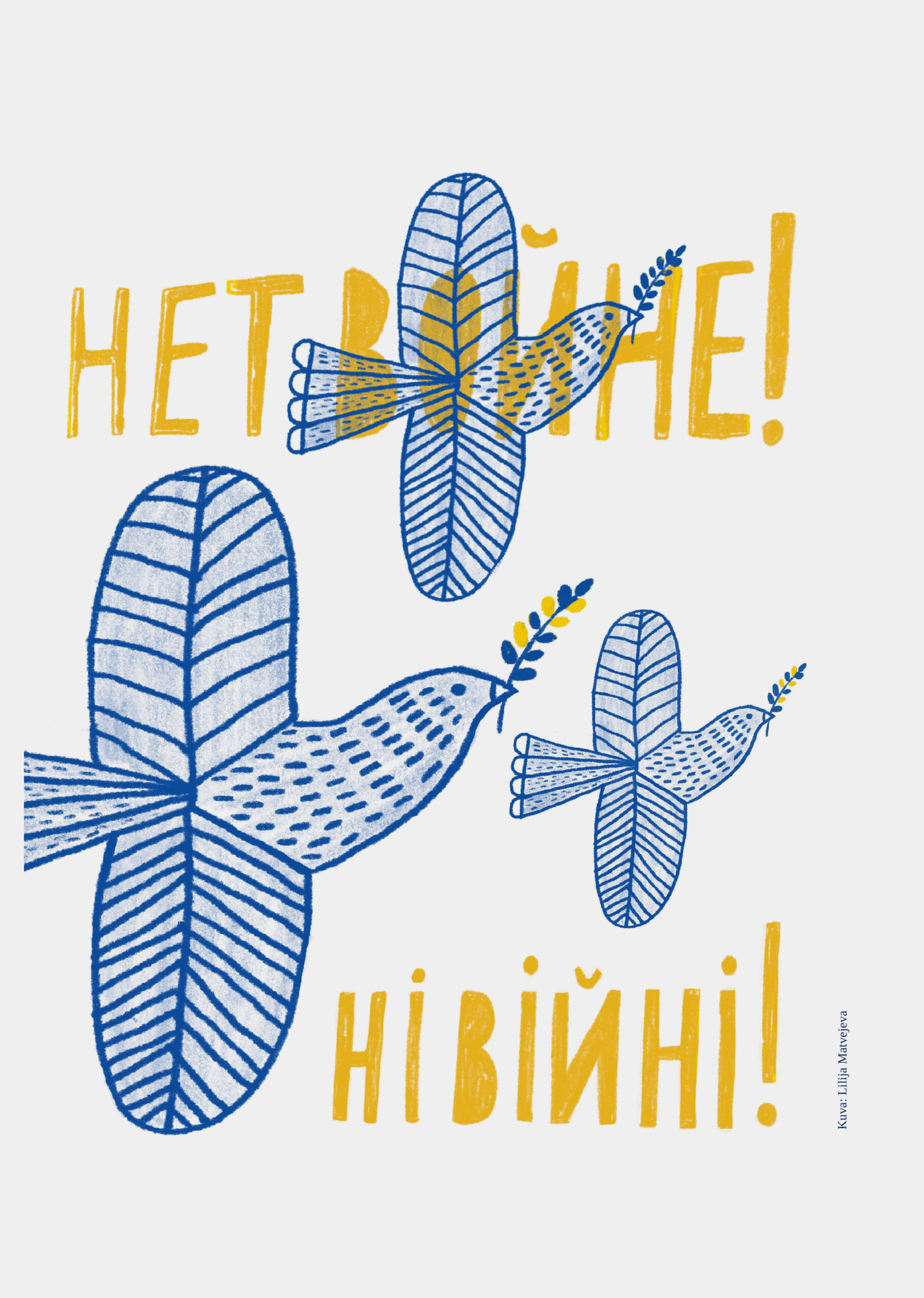 War-defying cartoons (UKR-RUS)
3.-28.8. 2022
War defying cartoons and illustrations in 'Imagining Peace. The exhibition aims to create a space free of hatred, militarism, and racism – in which a tranquil dialogue through art enables discussion without fixation on nationalities. The exhibition features works from four artists from Russian backgrounds and one from a Ukrainian background.
The artist of Ukrainian background, Julia Aleksejeva, now an artist and researcher living in the United States, explores the background and consequences of the Ukrainian war in her cartoons. Apahontsits and Lijia Matvejeva are Russian artists now living in exile in Tbilisi and Berlin. Their work reflects the sorrows caused by the war but also the hopefulness for a different kind of world without conflict. The exhibition also features artists Neonlucifer and Igor Bognadov from Moscow studio 'Vicious Membrane', for whom the venue grants an opportunity to showcase anti-war opinions no longer possible in Russia.
The exhibition shows its compassion towards both Ukrainian and Russian artists with war-defying voices. The exhibition is curated and envisioned by cartoon artist Sanna Hukkanen and producer Kerttu Matinpuro, who both have backgrounds in the peace movement and experiences of cultural collaboration in Russia. 
The authors can be met on Friday at 16:00 in Kulturhus Björkboda, which can be reached by bus from Taalintehdas at 15:25 and return by carpool leaving at 16:45, or by bus at 17:39
For more information contact
Guest curator
Sanna Hukkanen

Tecknade serier mot krig (UKR-RUS)
3.-28.8. 2022
Utställningen Fantasier om fred innehåller serieteckningar och illustrationer mot krig och syftar till att skapa ett rum fritt från hat, militarism och rasism, där en fredlig dialog kan äga rum genom och kring konst, oavsett nationalitet. Utställningen innehåller verk av fyra konstnärer med ryskt ursprung och en med ukrainskt ursprung.
Yulia Alexeyeva, en konstnär och forskare från Ukraina som bor i USA, belyser bakgrunden till och konsekvenserna av kriget i Ukraina i sina teckningar. Darya Apakhonchich och Liliya Matveyeva är ryska konstnärer som för närvarande lever i exil i Tbilisi och Berlin. Deras verk återspeglar starkt den sorg som kriget orsakat, men också hoppet om en annan värld utan krig. I utställningen ingår också konstnärerna Neonlucifer och Igor Bogdanov från studion Vicious Membrane i Moskva, som kommer att få möjlighet att uttrycka antikrigsröster som inte längre är möjliga i Ryssland. 
Utställningen visar stöd för både ukrainska konstnärer och ryska antikrigsröster. Utställningen har utformats och sammanställts av serietecknaren Sanna Hukkanen och producenten Kerttu Matinpuro, som båda har en bakgrund inom fredsrörelsen och erfarenhet av kultursamarbete i Ryssland. 
Författarna kan mötas på fredag kl. 16.00 i Kulturhus Björkboda, som nås med buss från Dalsbruk kl. 15.25 och tillbaka med bilpool kl. 16.45, eller med buss kl. 17.39.
Sodanvastaista sarjakuvaa (UKR-RUS)
3.-28.8. 2022
Sodanvastaista sarjakuvaa ja kuvitusteoksia esittelevä Rauhan kuvitelmia -näyttely pyrkii luomaan vihasta, militarismista ja rasismista vapaan tilan, jossa taiteen kautta ja sen äärellä olisi mahdollista käydä rauhanomaista dialogia kansalaisuuteen katsomatta. Näyttelyssä on esillä teoksia neljältä venäläistaustaiselta ja yhdeltä ukrainalaistaustaiselta taiteilijalta.
Ukrainalaistaustainen, Yhdysvalloissa asuva taiteilija ja tutkija Julia Aleksejeva valaisee sarjakuvassaan Ukrainan sodan taustoja ja seurauksia. Darja Apahontšitš ja Lilija Matvejeva ovat venäläisiä taiteilijoita, jotka asuvat tällä hetkellä maanpaossa Tbilisissä ja Berliinissä. Heidän teoksissaan näkyy voimakkaana sodan aiheuttama suru, mutta myös toiveet toisenlaisesta maailmasta ilman sotaa. Mukana on myös moskovalaisen Vicious Membrane -studion taiteilijat Neonlucifer ja Igor Bogdanov, joille näyttely antaa tilaisuuden sodanvastaisten näkemysten ilmaisuun, joka ei ole enää mahdollista Venäjällä. Näyttely osoittaa tukensa niin ukrainalaistaiteilijoille kuin venäläisille sodanvastaisille äänille.Näyttelyn ovat ideoineet ja koonneet sarjakuvataiteilija Sanna Hukkanen ja tuottaja Kerttu Matinpuro, joilla on molemmilla taustaa rauhanliikkeessä sekä kokemusta kulttuuriyhteistyöstä Venäjällä. 
Tekijät ovat tavattavissa perjantaina klo 16:00 Kulttuuritalo Björkbodassa, jonne pääsee Taalintehtaalta bussilla klo 15:25 ja paluu kimppakydillä joka lähtee 16:45, tai bussilla 17:39.
KUBU ♥ NORPAS
This is exhibition is a part of the collaboration with Norpas -festival. Norpas is an international independent art festival organized in a small village of Taalintehdas on Kemiönsaari island in Finland annually in August. The festival offers artistically high-quality non-commercial cultural programmes and organizes art workshops. Many of us in Kulturhus Björkboda are long-time Norpas volunteers also. Visit Norpas here.