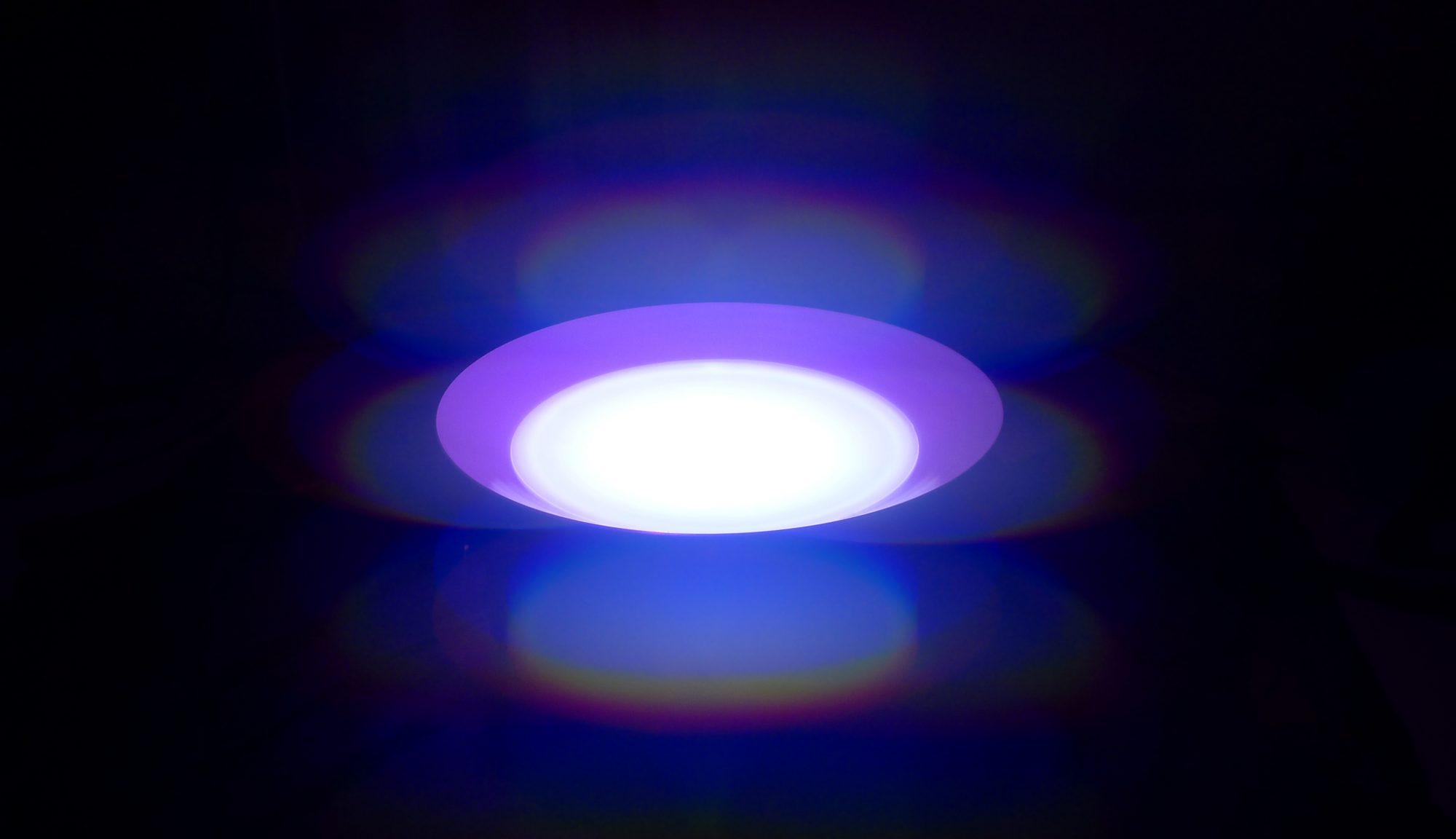 Light and sound installation / composition
Antti Tolvi, 4.-27.11. 2022 
Kulturhus Björkboda presents a sound and light art installation by Antti Tolvi that offers a unique sensory experience that challenges visitors to question what we understand about the frequencies in the world around us.
Antti Tolvi is a sound artist and performer living and working in Turku and Kemiönsaari, Finland. Antti has been one of the most important names in the field of experimental music-scene in Finland since 2002. Antti says,
"Electromagnetism is a composition which shows the invisible to us and introduces us to something that is lighter than the lightest thing. This immersive work plays with colors, shapes, body feelings, and sounds. Electromagnetism allows us to look at the world through diffraction glasses and mute its sounds with earmuffs. It is as if we are entering a new, quiet, wider state of vision. Diffraction glasses are created by allowing light to strike a grating which is marked with thousands of parallel lines, the light waves are caused to spread in such a way that they produce a spectrum or rainbow."
The Electromagnetism installation is made from DMX controlled light & wind, aluminum (Tuuli kulho, Brita Flander, Hackman), water, low frequency, electromagnetic sound, diffraction glasses and earmuffs.
Antti will be in attendance during the opening 4.11.2022, 18-20and is available for interviews please arrange directly.
Contact:
Antti Tolvi
https://anttitolvi.com
https://youtu.be/zk4iNII0RgQ
tonttutalvi@yahoo.co.uk
+358445994595
Curator
Lisa Roberts
lisa@kubu.fi
+358 41 750 2687
Tags:
#anttitolvi #kulturhus_kubu #spectrum #november #mudmonth #vibrations #installationart #lightart #soundart #kemionsaari #björkboda
Valo- ja ääni-installaatio / sävellys
Antti Tolvi, 4.-27.11. 2022
Kulturhus Björkboda esittelee Antti Tolvin ääni- ja valotaideinstallaation, joka tarjoaa aisteihin uppoutuvia kokemuksia, jotka haastavat sen, mitä ymmärrämme ympäröivän maailman taajuuksista.
Antti Tolvi on Turussa ja Kemiönsaaressa asuva ja työskentelevä äänitaiteilija ja esiintyjä. Antti on ollut yksi Suomen kokeellisen musiikki-skenen merkittävimmistä nimistä vuodesta 2002 lähtien. Antti sanoo: "Olen tehnyt paljon töitä, mutta en ole koskaan nähnyt mitään, mitä en olisi voinut tehdä,
"Sähkömagnetismi on sävellys, joka näyttää meille näkymättömän ja tutustuttaa meidät johonkin, joka on kevyempää kuin kevyin asia. Tämä immersiivinen teos leikittelee väreillä, muodoilla, kehon tuntemuksilla ja äänillä. Electromagnetism antaa meidän katsoa maailmaa diffraktiolasien läpi ja vaimentaa sen äänet korvalappujen avulla. On kuin astuisimme uuteen, hiljaiseen, laajempaan näkemisen tilaan. Diffraktiolasit luodaan antamalla valon osua ritilään, joka on merkitty tuhansilla yhdensuuntaisilla viivoilla, jolloin valoaallot leviävät siten, että ne tuottavat spektrin tai sateenkaaren."
Sähkömagnetismi-installaatio koostuu DMX-ohjatusta valosta ja tuulesta, alumiinista (Tuuli kulho, Brita Flander, Hackman), vedestä, matalataajuisesta, sähkömagneettisesta äänestä, diffraktiolaseista ja korvalaseista.
Antti on paikalla avajaisissa 4.11.2022 klo 18-20 ja on käytettävissä haastatteluja varten.
Ljus- och ljudinstallation / komposition
Antti Tolvi, 4.-27.11. 2022
Kulturhus Björkboda presenterar en ljud- och ljuskonstinstallation av Antti Tolvi som erbjuder sensoriska uppslukande upplevelser som utmanar vad vi förstår om frekvenserna i världen omkring oss.
Antti Tolvi är en ljudkonstnär och performer som bor och arbetar i Åbo och Kemiönsaari i Finland. Antti har varit ett av de viktigaste namnen inom den experimentella musikscenen i Finland sedan 2002. Antti säger,
"Elektromagnetism är en komposition som visar det osynliga för oss och introducerar oss för något som är lättare än det lättaste. Detta uppslukande verk leker med färger, former, kroppskänslor och ljud. Electromagnetism låter oss se på världen genom diffraktionsglasögon och dämpa dess ljud med öronskydd. Det är som om vi går in i ett nytt, tyst och bredare syntillstånd. Diffraktionsglasögon skapas genom att låta ljus träffa ett galler som är markerat med tusentals parallella linjer, ljusvågorna sprids på ett sådant sätt att de ger upphov till ett spektrum eller en regnbåge."
Installationen Electromagnetism består av DMX-styrt ljus och vind, aluminium (Tuuli kulho, Brita Flander, Hackman), vatten, lågfrekventa, elektromagnetiska ljud, diffraktionsglasögon och hörselskydd.
Antti kommer att vara närvarande under öppningen 04.04.22, 18-20.00 och är tillgänglig för intervjuer, vänligen boka direkt.

ABOUT THE GALLERY PROGRAM
Kulturhus Björkboda shows contemporary art in all media and supports professional artists throughout their careers. In 2022 our diverse program will test the exhibition potential of this grand old building. Our 55m2 ground-floor gallery and reception room can be converted into a hybrid studio/exhibition space. The rest of the house and outside spaces can also be used for site-specific installations, events, and workshops. We encourage artists with new, ready-to-hang shows as well as those who want to create site-specific work.